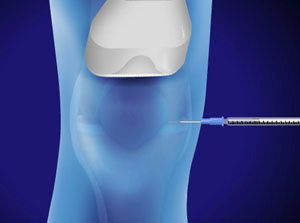 Before you go and have surgery, find out if your own body can heal you by scheduling a consultation in Pickerington, Ohio. Find out if Stem Cell Therapy may prevent you from having surgery.
The stem cell therapy has grown in popularity in the last years as part of regenerative medicine. Basically stem cells are inserted directly into injured tissues and your body does the rest.
This treatment has been expanding rapidly in orthopedic and musculoskeletal disorders; it is used for both degenerative diseases like osteoarthritis and post-traumatic injuries like sports injuries and surgeries.
Lack of local stem cells and the lack of a blood supply to deliver a sufficient quantity of stem and regenerative cells to injured areas declines with age and therefore the body's innate healing capacity to aid in repair declines too.
The body's joint lack a good blood supply, which increase the degenerating process. This explains why joint osteoarthritis tends to be progressive.
Osteoarthritis is the degeneration of both cartilage and bone. Many experts have stated stem cells may help in the repair of osteoarthritis in many ways, since they may act as anti-inflammatory mediators, or forming new cartilage or bone cells.
There are several types of stem cells used by the body in musculoskeletal healing of tendons, ligaments, cartilage and bones.
Injuries and conditions that may be treated with tissue allographt include:
Arthritis / Osteoarthritis.
Ligament injuries, like sprains and tears (MCL, ACL, PCL or LCL).
Patellofemoral Syndrome / Chondromalacia.
Bursitis.
Baker's cyst.
Tendonitis.
Meniscus tear/ Labrum.
Knee Instabilities.
Muscle Insertional Tendinopathy.
Cartilage Damage.
The benefits that could provide the stem cell therapy is that it is performed within a single day and it may be used as a safer alternative to the surgery or total joint replacement. In other words, this therapy could provide the same results in a less traumatic way, with lower risks of complications such as infection and blood clots.
Some experts say that even most patients are able to return to normal activity following the procedure, which allows avoiding the painful and lengthy rehabilitation periods that are typically required after joint surgeries.
It is always recommended to be evaluated by a healthcare provider. He or she will determine the best treatment for each patient according to his/her particular needs.
Call 614-920-9902 and schedule a complimentary consultation to determine if you may be a candidate for this breakthrough therapy.